District of Soest – On 02.12.2020 the decisive starting signal for the next main phase of the project "Evolving Regions" was given. Almost 40 actors from the municipalities as well as experts from the district met in the virtual key actors' workshop to accompany and shape the process of the climate-adapted district of Soest.
"The district of Soest is pleased about the close cooperation with the various actors within the Evolving Regions project. Measures are to be developed to be prepared for future extremes of weather events", Dr. Jürgen Wutschka, Head of the Department for Regional Development, welcomed the plenum in virtual space.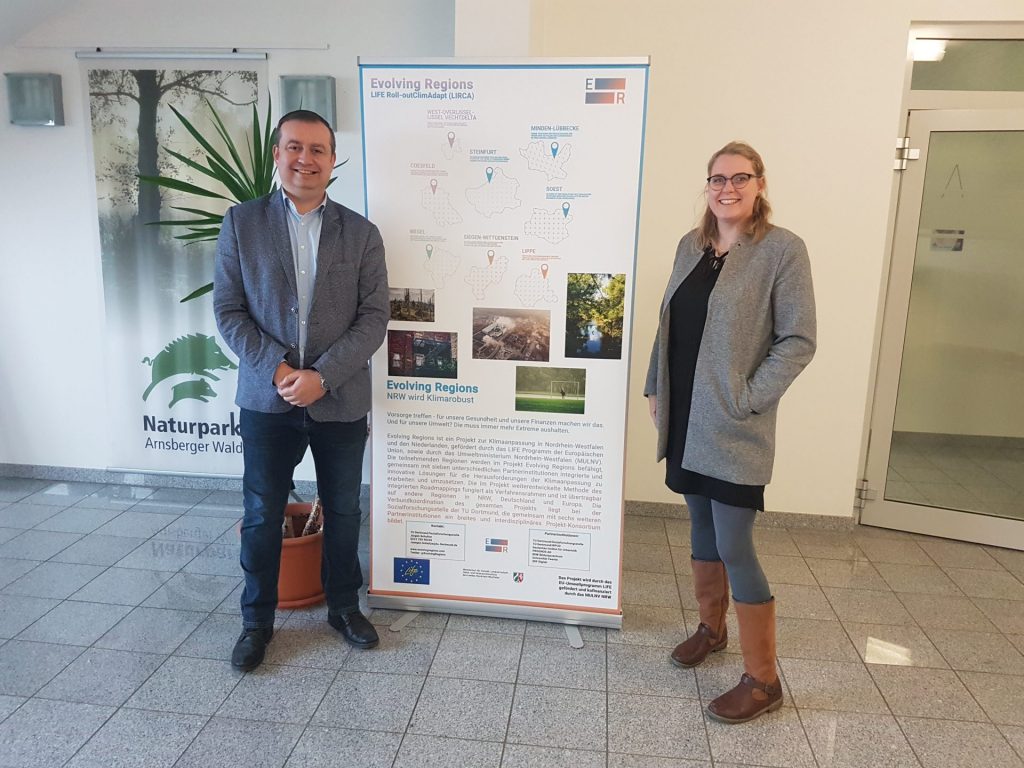 Ten out of fourteen municipalities in the district of Soest took part in the workshop and expressed their great interest. Mr. Rainer Wolf, Climate Protection Office of the City of Soest, gave the group a presentation on climate adaptation activities in Soest. "The effect of climate adaptation measures is particularly evident in the cooling effect of the Soestbach stream in the city centre of Soest. The measure was to open up and renaturalise the stream".
Further measures to minimise the pollution of inner city areas within the municipalities in the district of Soest will be developed in the further course of the project.
Three previously identified areas of work were deepened in this workshop.
Thus, the group on built-up space – urban planning, undeveloped space agriculture and forestry and tourism split up in order to identify the needs and sensitivities for action and to lay the foundations for the development of measures.
Mrs Kerstin Heim-Zülsdorf, head of the LIZ Möhnesee, said: "People are very shocked when they notice how low the water level is at the dam at the Möhnesee. Our mission is to pick them up and show them your options for action on climate change"
Climate change has clear consequences for tourism in the district. It must also be shown to future generations and backed up with education and information.
In the main phase of the project, starting in January 2021, a climate impact map prepared for all towns and municipalities in the district will serve as a working basis. These data can be used to identify the concrete effects of climate change in the district area.
The visualisation of possible consequences of climate change not only highlights local vulnerabilities, but also sensitises regional actors to the need for climate adaptation measures.