The Speed-consulting Event on Climate Adaptation
Dortmund – Diverse expertise from a broad-based consortium combined with external input from experts and the opportunity for personal discussions – that was Evolving 21.
On 22 January, in the context of the one-year cooperation within the Evolving Regions project, the event Evolving21 – The Digital Speed-Consulting on Climate Impact Adaptation took place.
The moderator team Jennie Sieglar and Tim Schreder guided the almost 50 participants from the press, municipal representatives and students through the virtual event.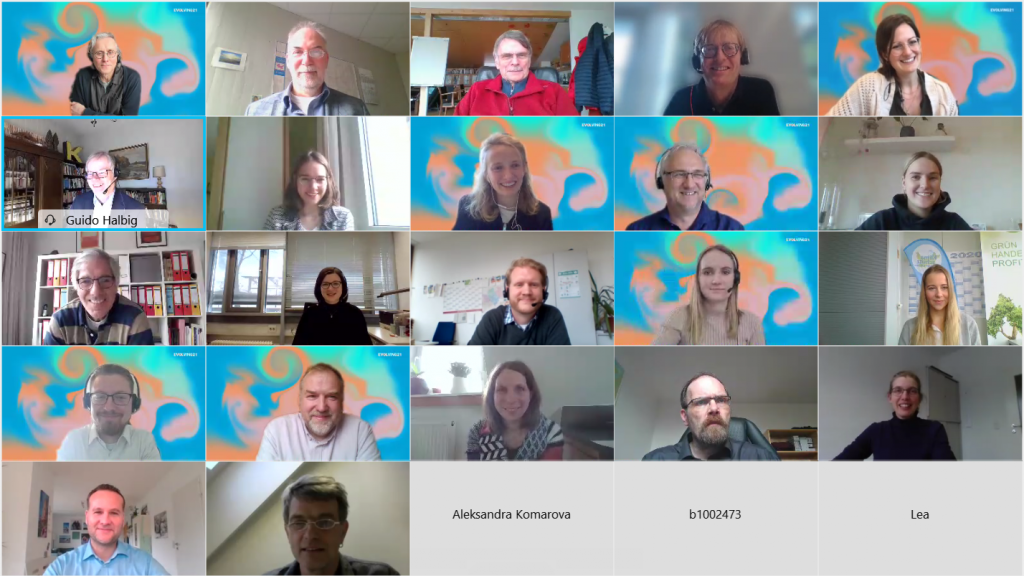 Özden Terli, weather presenter, Guido Halbig, head of the Essen branch of the German Weather Service, and Jennie Sieglar & Tim Schreder introduced the topic of climate change and climate impact adaptation in short climate pitches. They shared their experiences and expertise with the participants, made climate impact adaptation seem tangible and necessary, and explained connections to climate change in general.
In the second part of the event, the speed consulting, the participants had the opportunity to talk to a total of 12 experts from the project consortium. The experts were representatives from academia and practice who contribute a wide range of services to the Evolving Regions project. In the three rounds of the speed consultation, new matchings between the participants and the experts emerged again and again. All the participants' requests for talks could be fulfilled and the experts presented their experiences from the first year of Evolving Regions and their everyday work in a short input and then answered the participants' questions in the sessions.
The embedded video is a recording of the keynote speech by Guido Halbig. In the 25-minute contribution, Guido Halbig provides input on climate change in NRW and possibilities for adaptation. The video was recorded during #Evolving21 on 22.01.2021.
We would like to take this opportunity to thank our project partner ZDF Digital for this creative idea and the excellent cooperation.