On 10 March 2022, we will focus on climate adaptation in rural areas and discuss current issues and challenges together with you as part of the Evolving22 conference of the Evolving Regions project. Therefore, make a note of this date now: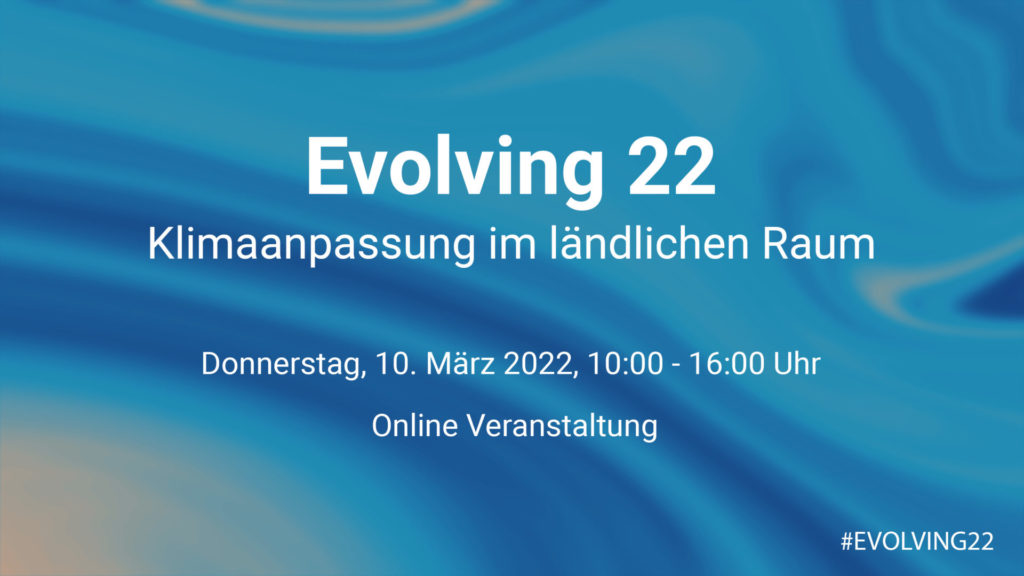 Climate change is progressing and adaptation to its consequences is also becoming more and more important. Not only cities and municipalities are on the way to adapting to the consequences of climate change; Public and private actors are also taking action at the regional level to make their region climate-resilient for the future. Especially in rural areas, regionally coordinated processes are becoming increasingly important, as they offer the opportunity to bundle resources and create synergies in cross-field topics.
We are looking forward to a welcome and an impulse by Bernd Decker (CINEA) and to other exciting guests in the panel discussion.
You will also have the opportunity to get to know examples from climate adaptation practice and to discuss topics, structures and special features of climate adaptation in rural regions in interactive expert sessions.
For up-to-date information on #Evolving22, you can also follow us on Twitter.
For more information and to register for the event, click here.
You can also download the program here: